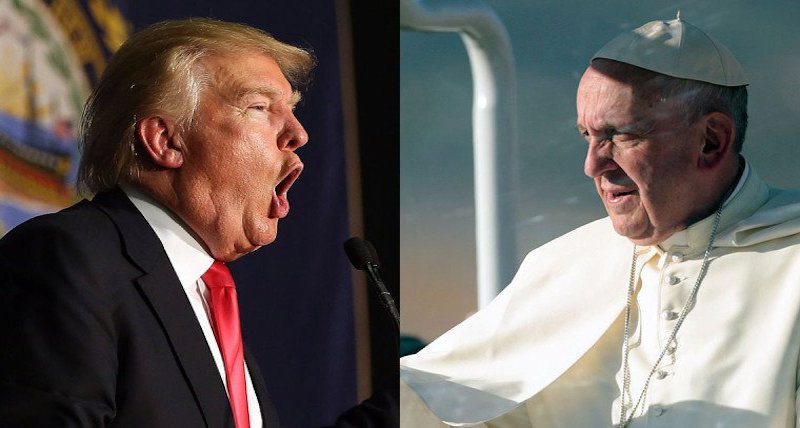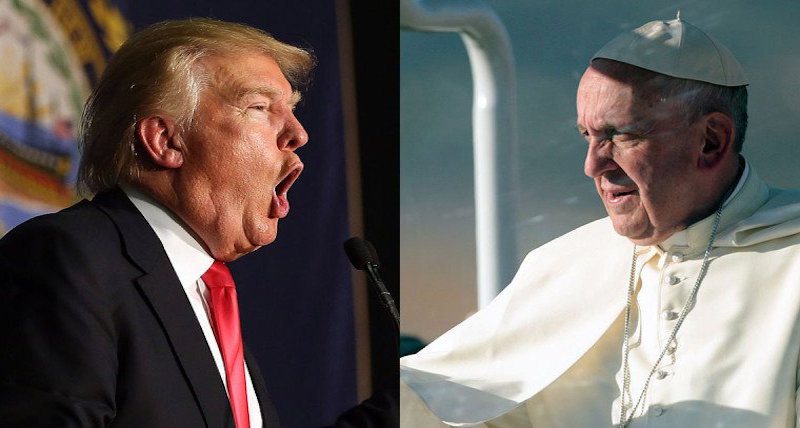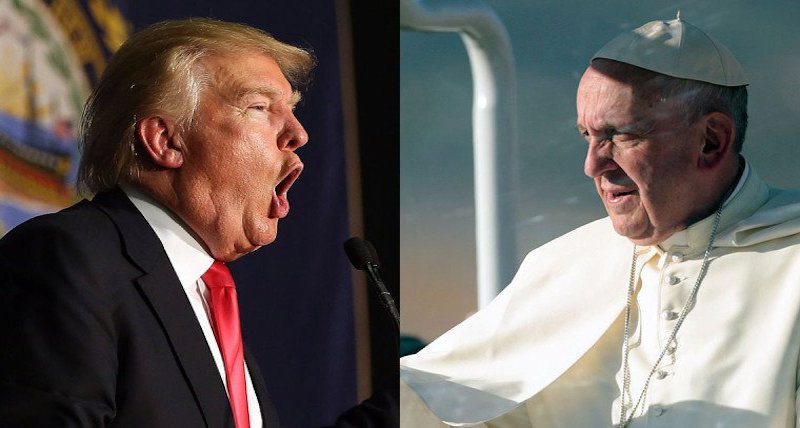 ---
Religion –
Pope Attack By Trump Risky Business
---
Republican presidential candidate Donald Trump has proven he can say anything about anybody without losing a lick of support from those foolish enough to follow him. However, Trump's harsh words against beloved Pope Francis last week could come back to bite him in his political britches.

Religion
In what is being called his most audacious attack yet on a revered public figure, Trump's mouth steered him into risky political territory last Thursday, when he denounced the pope over a disagreement on immigration.
The furor started when Trump stated his plans to build a wall along the U.S./Mexico border and deport 11 million illegal immigrants if he's elected.  However, Trump recently doubled-down on those words by saying he expects push back from the pope, who he called a "pawn of the Mexican Government" when it comes to immigration.
Not willing to take an unprovoked punch from Donald Trump lying down, Pope Francis swiftly responded.
"A person who thinks only about building walls, wherever they may be, and not building bridges, is not Christian. This is not in the gospel,"  the pope said.  He added "I say only that this man is not Christian if he says things like that."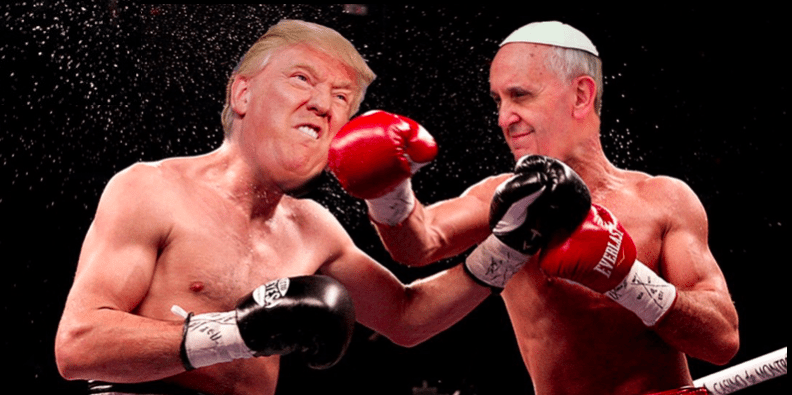 Embracing the role of the playground bully, Trump then took a risky political calculation and called Pope Francis "disgraceful" and "unbelievable." He then charged that the Mexican government had hoodwinked the pope into criticizing him.  Hmmm…
Later, Trump attempted to dial back his rhetoric and downplay his war of words, but the genie was already out of the bottle. Donald Trump had instigated a fist fight against the head of The Vatican and leader of the Catholic faith. The damage was done.
Ordinarily, politicians steer clear of attacking the Vatican for fear of alienating Catholic voters — however Trump is far from ordinary. The aggressive Trump theorized that a bout with the pope would  improve his standing among conservatives in South Carolina and in Southern-dominated Super Tuesday contests on March 1st.  He also realized that certain evangelical denominations in the South take a dim view of the Catholic Church and believe Pope Francis is too liberal when it comes to gays, birth control and divorce. So, he took the risk. Luckily, it paid off in South Carolina, where evangelicals and conservatives handed Trump a decisive victory in Saturday's primary. However, that risk could come back to haunt Trump when he least expects it.
Religion
Trump's harsh language and profanity may energize conservatives, but it alienates nearly everyone else.  Or in other words, it may play well in the primaries, but it could be a poison pill in the general election.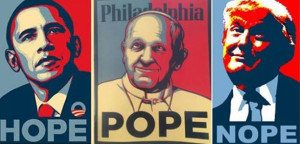 If Trump does indeed get the Republican nomination, he will have to impress more than just his safe, political base. He will need to woo Independent and undecided voters who may not be as impressed with his rebuke of a beloved pontiff. Further, with nearly 70 million Catholics within the United States, that is a dangerously huge amount of people to piss off over a risk. So, a short-term goal to impress evangelicals by attacking a "liberal" pope, could completely ruin his long-term goal of making it to the Oval Office.
"Mr. Trump now adds Pope Francis to his list of people who, after having a policy disagreement, he insults and slurs," said veteran Republican strategist Russ Schriefer. "It continues to put his judgment and temperament in question."
That temperament will surely be put to the test in heavily Catholic and delegate-rich states like New Jersey, New York and Pennsylvania, where he is hoping for strong victories. For Trump, he may be taught a very valuable lesson that many of these voters are Catholics who, whether they like Pope Francis or not, do not take kindly to him denouncing the pope or his compassion toward immigrants.
"Trump can take on former presidents, governors, senators, fellow candidates and the media, but I think he should just take a pass on arguing with the pope on what makes a better Christian," said Edward Rollins, a former political adviser to President Ronald Reagan and other Republicans. "It's a fight Trump can't win. And shouldn't try."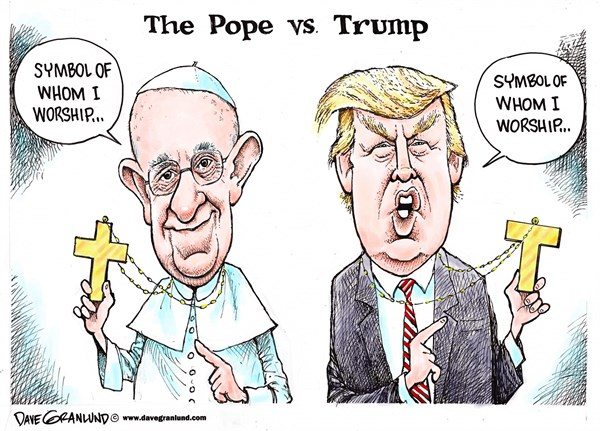 ---
OK WASSUP! covers religious news.  Today's article:
Trump attack against pope could be huge political blunder.