Bannon Banished To The Back Of The Bus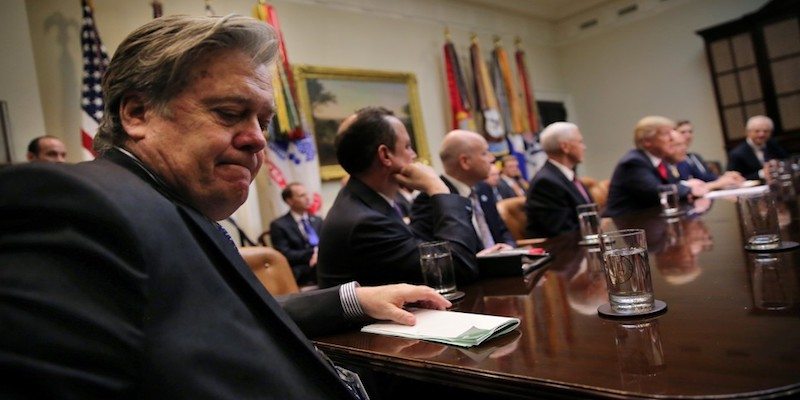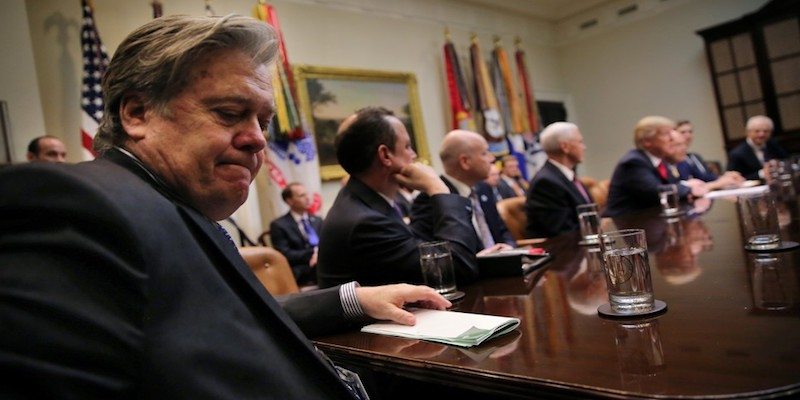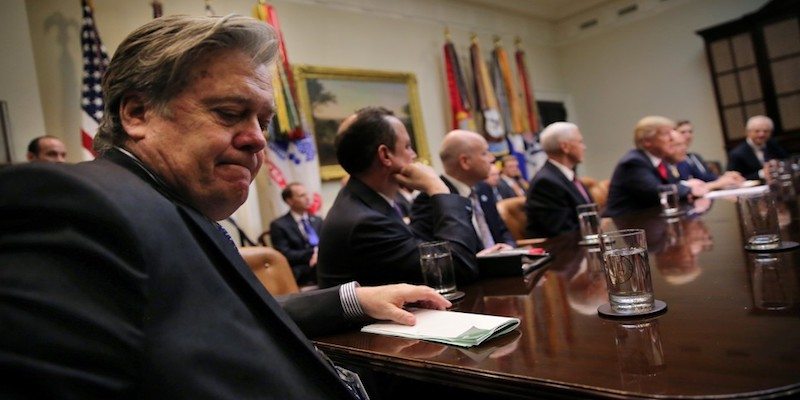 ---
Politics –




Bannon Banished To




The Back Of The Bus
---
Remember a time when White House chief strategist Steve Bannon was considered so influential, he was referred to as "President Bannon?" Well, the times… they are a changin'.

Politics
Poor Steve Bannon. The former Breitbart News honcho and current poster boy for white supremacy whose goal was the "deconstruction of the administrative state," used to be the cat's meow in the eyes of "The Donald." Now, he appears to be about as important as a $2 dollar hooker the morning after a tepid sexcapade.
The new object of Donald's affections is none other than son-in-law in-chief, Jared Kushner, who appears to not only be winning the battle of the West Wing but soon to force Bannon as well as White House Chief-of-Staff Reince Priebus out!
Yes, Donald Trump is considering rearranging the deck chairs on the Titanic — and we all might owe Ivanka's husband a debt of gratitude for the impending shake-up.

For a man who rode to The White House on the premise that he's a "winner" who "knows how to get things done," Donald Trump has quickly proven that his reputation has not preceded him. Or in other words, Trump has been everything but a sure-fire winner.
His mere 3 months in office have been dogged by credible claims of possible collusion between the Trump campaign and Russia. His hand-picked National Security Adviser, Michael Flynn, was forced to resign in shame after only 3 weeks on the job. The Republican chairman of the House Intelligence Committee, Rep. Devin Nunes, was forced to recuse himself from the Trump investigation, after it was revealed that he was withholding information from the committee and delivering it directly to the Trump White House. A federal judge twice nixed Trump's plans to ban Muslims from entering the US. Oh, and who can forget the "Repeal and Replace Obamacare" debacle, which was Trump's #1 promise to Obama-haters that went down in an embarrassing sea of flames.
To put it mildly, the Trump presidency has so far been a flop. Never one to accept responsibility himself, Donald Trump has directed blame for his failed first few months toward 2 of his top White House staffers: chief strategist Steve Bannon and Chief-of-Staff Reince Priebus — with Bannon receiving the lion's share of the blame.
The first signs of trouble in paradise came late last week when Steve Bannon was surprisingly booted off the National Security Council. The NSC is traditionally made up of high-ranking military brass and intel officials with decades of experience, who hold the powerful authority to play God and assassinate anyone considered a threat to national security. Bannon should have never been granted such elite membership, however, that wrong has since been righted. New national security adviser H.R. McMaster has been working for weeks to rid the White House foreign policy operation of Bannon. According to West Wing sources, it was ultimately the influence of Jared Kushner that made it finally happen.
The 2nd sign came from a telling photo-op, where Trump was huddled in a meeting with his top advisers to discuss the bombing of Syria. Bannon has traditionally been seated directly at the main table and only a person or 2 away from Trump. However, the new photo showed him relegated to a seat behind the grown-ups table with Trump's back to him — while Jared Kushner was front and center.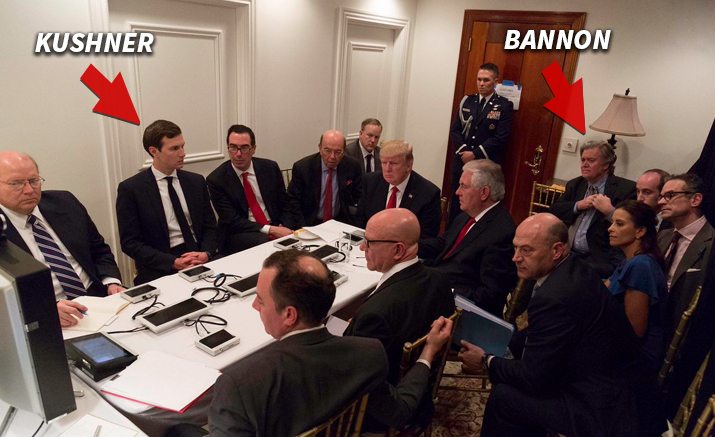 Yet another sign came during a dinner last Thursday with President Xi Jinping of China at Trump's Mar-a-Lago estate. Seated next to Xi Jinping's wife and only 2 seats down from Trump himself was first son-in-law Jared Kushner. Further down the banquet table and sandwiched between 2 miscellaneous Chinese officials was Bannon, who appeared visibly dejected.
Needless to say, it's clear that his power has eroded and his position in the White House is in jeopardy. Or, in the words of one Trump confidant: "Bannon will likely be gone soon."
How the mighty have fallen.
.


WH photo (ed for security): @potus receives briefing on #syria military strike fr Nat Security team, inc @vp , SECDEF, CJCS via secure VTC pic.twitter.com/aaCnR7xomR

— Sean Spicer (@PressSec) April 7, 2017


.
Politics
On Thursday night while Trump was weighing a military strike against Syria, Bannon stood vocally against any action — however, it was the Kushner wing of the staff who eventually convinced Trump to ignore Bannon's bark and proceed anyway. The strikes were a break from the nationalist stance Trump adopted as a candidate on the advice of Steve Bannon, who frequently argued against US intervention abroad and was a key architect of Trump's "America First" policy. However, he found himself at the "back of the bus" as Trump pondered punishing the regime of Bashar al-Assad for its use of chemical weapons on civilians.
Recognizing the writing on the wall, Bannon reportedly threatened to quit last week but was talked out of it by wealthy Republican donor Rebekah Mercer, who believes Kushner and Ivanka are closet Democrats who will pull Trump away from the white supremacist conservative agenda that brought him to Washington.  Still, his decision to remain doesn't prevent Trump from pulling the rug out from under him anyway.
Donald Trump has reportedly been asking those outside the administration — including wealthy friends and longtime confidantes — whether they approve of the makeup of his staff. Interestingly, many Republicans believe that both Priebus and Bannon should go.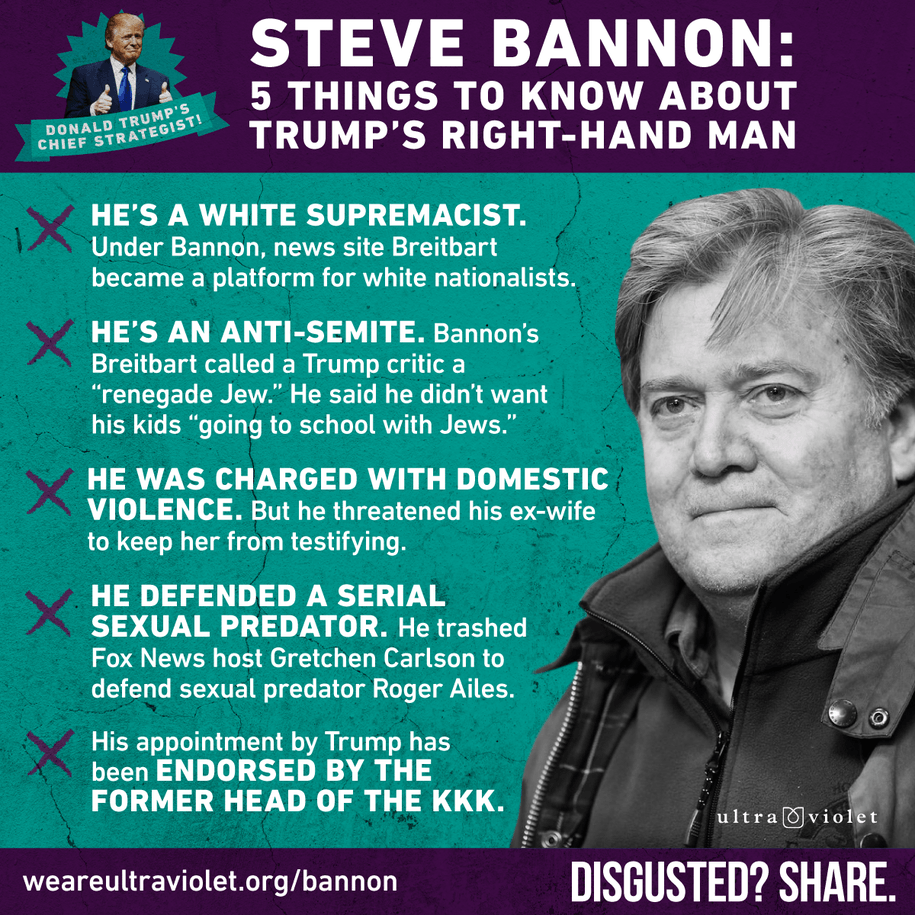 The former Breitbart executive knows his standing in Trump's inner circle has been diminished. He also recognizes that his entrenched battle with Kushner — and, by proxy, Ivanka Trump, as well as other moderate members of the administration — is "unwinnable" given Trump's intense loyalty to his own family. Still, Bannon remains determined that for as long as he is around he will continue fighting for those key (read: nationalist) issues that helped propel Trump to the White House.
As for Chief-of-Staff Reince Priebus, he is growing ultra-sensitive about questions regarding his competence and relevance in the White House — particularly since he spends very little time actually managing staff, but rather by Trump's side nearly every waking moment attending to his every whim. Priebus is said to be deeply concerned about his stature in the West Wing and his inability to paint a rosy perception for the public as to the goings on inside 1600 Pennsylvania Ave. Donald Trump spends hours watching news programs and reading every syllable written about him, so it's no wonder he's growing increasingly impatient with how his presidency is being viewed — something he blames Priebus for not being able to control.
Not surprisingly, The White House issued a statement Friday pushing back on speculation that Bannon and Priebus are on the outs.
"Once again this is a completely false story driven by people who want to distract from the success taking place in this administration," said Lindsay Walters, a White House spokeswoman. "The President's pick for the Supreme Court (a decision that has generational impact) was confirmed today, we hosted multiple foreign leaders this week and the President took bold and decisive military action against Syria last night. The only thing we are shaking up is the way Washington operates as we push the President's aggressive agenda forward."
Yeah, right.
Is "President Bannon" on shaky ground inside The White House, or are rumors of his demise greatly exaggerated?
TAKE OUR POLL:
---
OK WASSUP! discusses politics:
Is Steve Bannon on the way out?