United Airlines Proves Why Travel Is Hell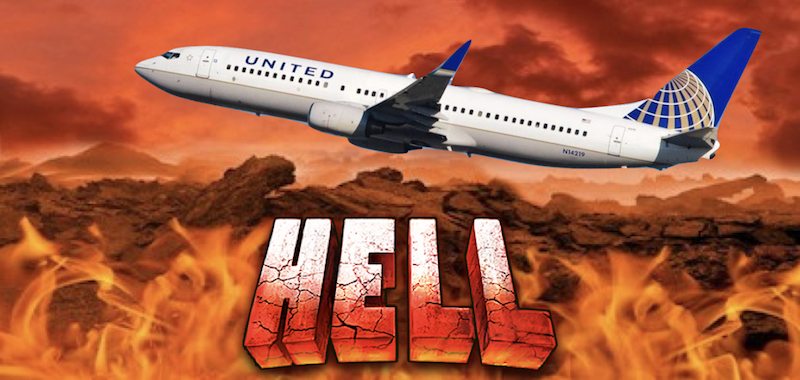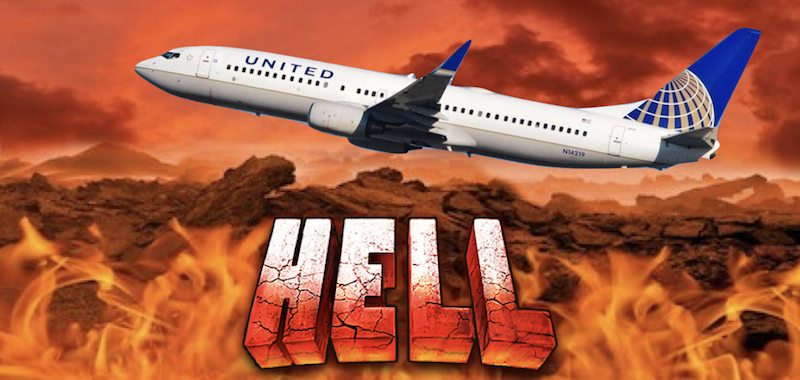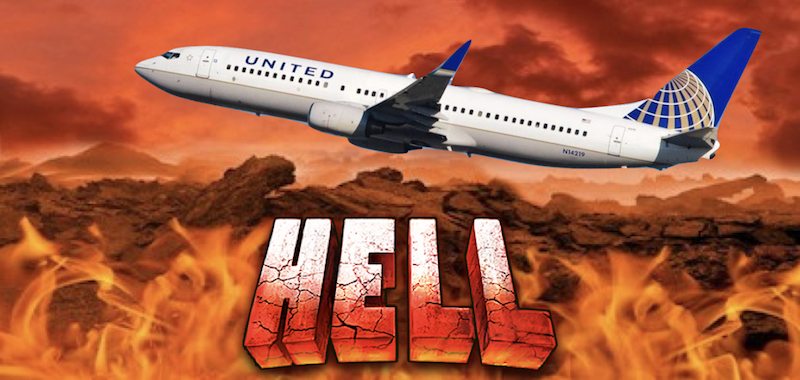 ---
Travel –
United Airlines Proves
Why Travel Is Hell
---
If you're old enough to remember a time when airline travel was luxurious and "the" event to look forward to, then you're probably pulling your hair out from the way United Airlines has led the pack in assuring that today's airline travel is pure hell!

Travel
No ifs, and's, or buts about it — United Airlines has had perhaps the most horrendous 2-week period of any airline in travel history. However, is their fate merely a terrible stroke of bad luck, or more of a preview of what we should expect the future of air travel to become?
Let's take a look at the facts in reverse order:
.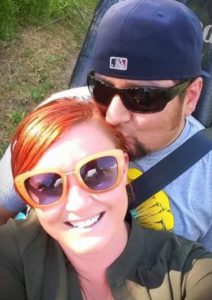 Bride And Groom Kicked Off United Flight
On April 15th, Michael Hohl and his fiancé, Amber Maxwell, boarded United Flight 1737 in Houston, in route to their planned wedding in Costa Rica. According to the couple, a man was napping across their entire row of seats when they boarded the plane, so they simply selected an empty row of seats a few rows ahead of their own so as to not disturb the sleeping passenger. That's when United reportedly sent an US Marshall onto the plane and had the couple forcibly removed.
According to the airline, Hohl and Maxwell disrupted the flight by changing seats multiple times but were removed because they eventually sat in Economy Plus seats, which are considered a paid upgrade.
"We thought not a big deal, it's not like we are trying to jump up into a first-class seat," Hohl said. "We were simply in an economy row a few rows above our economy seat." He added that they were willing to pay the upgrade fee in order to make their wedding, but the airline was having none of it and booted them from the plane.
The engaged couple was not allowed to fly that day but was booked on an alternate flight on Sunday morning. What a way to start their married life.
.
Motha-F*ckin' Scorpions On The Motha-F*ckin' Plane
On April 9th, a man on a United flight from Houston to Calgary was stung by a scorpion.
According to Linda Bell, the venomous creature fell from an overhead bin and landed in her husband, Richard's, hair while he was eating lunch in his business class seat.
"My husband felt something in his hair. He grabbed it out of his hair and it fell onto his dinner table. As he was grabbing it by the tail it stung him," she told reporters. She added that her husband was able to shoo the scorpion off his dinner tray and into the aisle, causing a nearby passenger to scream, "Oh my god, that's a scorpion."  Flight attendants rushed to capture the scorpion and flushed it down the airplane toilet.
.

.
Doctor Dragged Down The Aisle
By now we've all seen the awful and telling video.
On Sunday, April 9th, Dr. David Dao was dragged from his seat aboard United Airlines Flight 3411 by 3 Chicago O'Hare security officers and physically removed from the plane. So, what exactly did Dr. Dao do that was so severe, he needed to be removed from the flight? Absolutely nothing!
Dr. Dao was kicked to the curb because United overbooked the plane and wanted to transport 4 United employees to Louisville. When no one accepted the airline's offer to voluntarily vacate their seat, the airline simply picked a random passenger (Dao) and told him he had to go. When Dr. Dao (who was already seated) refused to be bullied by the airline, they initiated a veritable melee and created a public spectacle that has since been seen more than a million times on social media.
.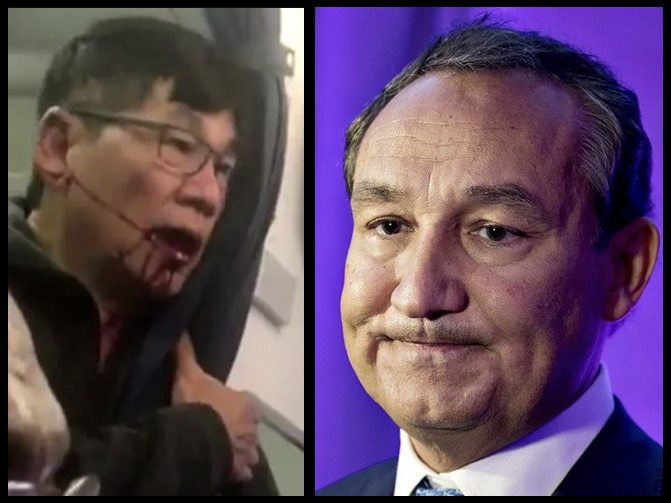 .
United Doesn't Know How To Say "I'm Sorry"
A few days after the video of Dr. Dao's violent scuffle went viral, United Airlines delivered a weak apology that only made matters worse.
"This is an upsetting event to all of us here at United," CEO Oscar Munoz said. "I apologize for having to re-accommodate these customers. Our team is moving with a sense of urgency to work with the authorities and conduct our own detailed review of what happened."
However, many social media users were offended by the failed apology and particularly the term "re-accommodate."
.
Dear #united, I had to "re-accommodate" someone once pic.twitter.com/MP3ZJDv85m
— Joe Thomas (@joethomas73) April 10, 2017
.

Nice to know "re-accommodate" on United now means "drag you violently out of your seat."
— Meg ♥️ (@sassylibrarian1) April 10, 2017
.
Then, later that same day, United released a memo blaming Dr. Dao for the incident by calling him "disruptive and belligerent."
Needless to say, once word got out about United's 2nd FAILED ATTEMPT at a correct apology, social media once again lit into the airline.
.
#flythefriendlyskies my husband was on that flight. Screw you United!! @united pic.twitter.com/4EcxrMy5jZ
— Kaylyn Davis (@kaylyn_davis) April 10, 2017
.
By the next day, United realized it was taking a huge PR and financial hit so, the CEO finally issued an actual apology.
"I continue to be disturbed by what happened on this flight and I deeply apologize to the customer forcibly removed and to all the customers aboard," Oscar Munoz said in a statement. "No one should ever be mistreated this way. I want you to know that we take full responsibility and we will work to make it right."
In an appearance on Good Morning America, Munoz added that the airline will no longer dispatch security or law enforcement officials to remove paying customers due to overbooking. Additionally, 3 security officers were placed on leave over the incident, with Chicago Department of Aviation admitting that protocol was not followed.
.
Not An Isolated Incident
Geoff Fearns, a frequent traveler, and president of a California investment firm told the Los Angeles Times that even in a first class seat on United, he was threatened with handcuffs when he resisted giving up his seat.
"They said the flight was overfull… they told me they needed the seat for somebody more important who came at the last-minute… They said they have a priority list and this other person was higher on the list than me," he said.
.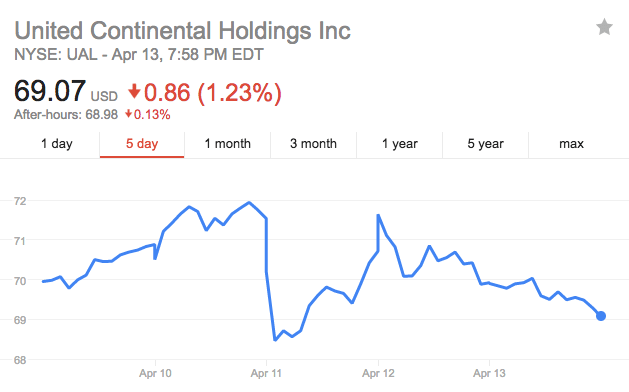 .
Hit 'Em Where It Count$
Despite United's extremely late apology, the damage was severe. Following the incident, United stock dipped as much as 6.3%, costing the airline $1.4 billion in market capitalization. The airline also experienced a plethora of canceled reservations, as travelers called for an all-out boycott to last through what should be the airline's busy summer season.
Additionally, Dr. Dao's lawyers held a press conference to announce that they will be filing a lawsuit since Dao reportedly suffered a concussion, a broken nose and the loss of 2 teeth.
.
Travel
For the past several years, airlines have turned air travel into a nightmare by nickel-and-diming its passengers, squeezing them into seats like sardines, and basically turning airline travel into a living hell. The thinking was that if passengers didn't like it what were they going to do, take a bus?
Today, almost every airline has fallen prey to pocketing the biggest buck while providing the absolute worst travel experience possible. However, with United Airlines leading the pack, they could soon bite the biggest bullet.
---
OK WASSUP! covers Travel News:




United Airlines makes travel hell!