Yates Testifies: 'Flynn Could Be Blackmailed!'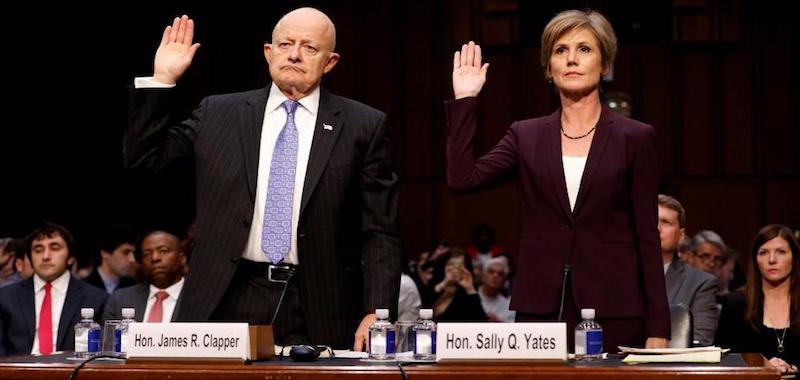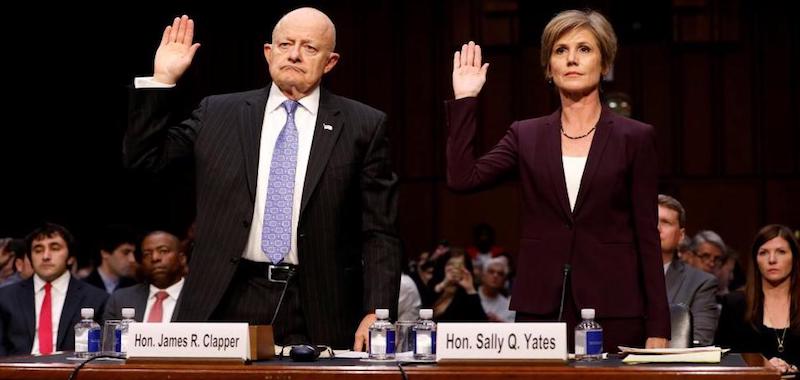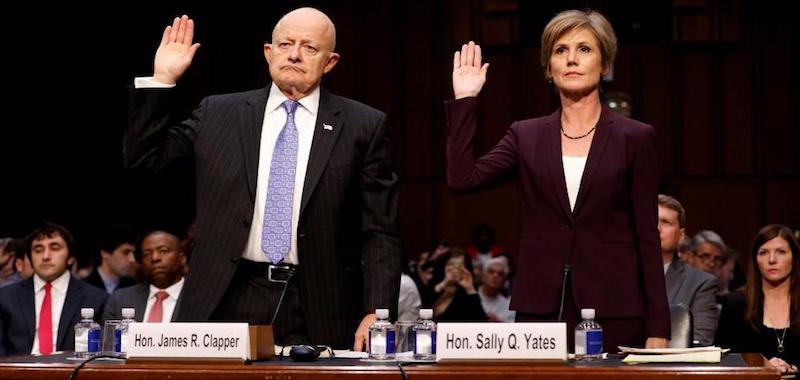 ---
Top News Today –




Yates Testifies:




'Flynn Could Be Blackmailed!'
---
Former acting attorney general Sally Yates delivered dramatic testimony on Monday before a Senate Judiciary sub-Committee, once again putting a spotlight on Donald Trump, former National Security Adviser Michael Flynn, and likely collusion between the Trump campaign and Russia.

Top News Today
In her climactic appearance along with former director of national intelligence James R. Clapper Jr., Yates provided damning evidence that simply does not bode well for "The Donald." First, she testified that she issued an urgent warning to the White House counsel concerning suspicious contact between Gen. Flynn and Russia that she believed left him open to blackmail. Incidentally, this is the same contact Flynn "forgot" to disclose to congress and lied about to VP Mike Pence.
According to former CIA and NSA director Michael V. Hayden: "If the acting attorney general insists on seeing the White House counsel, that is a tectonic thing in its own right," Hayden said. "It suggests one: the chaos in the Trump White House, second is the inordinate distrust of the officials from the government they were replacing, and third is going to feed that darker narrative out there with regard to the relationship with the Trump campaign and the Russian Federation."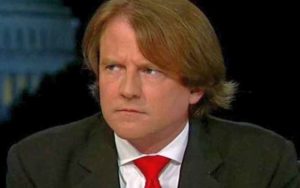 Next, Yates described 2 in-person meetings she had with Trump White House Counsel Donald McGahn. Both meetings were attended by a McGahn associates and a Justice Department career civil servant from the national security division (meaning, there were plenty of witnesses). Yates testified that on January 26th, she told McGahn that the Justice Dept. was aware that the information Flynn was telling Mike Pence regarding contacts with the Russians was untrue. She explained the "underlying conduct was problematic in and of itself" and that it set up the potential for Flynn to be "compromised." McGahn called her back to the White House on January 27th to inquire about the ramifications of one White House official lying to another, whether Flynn might be criminally prosecuted and whether taking action would compromise the investigation.
This information is important, since it calls into question why Michael Flynn was allowed to remain on the job for 18 days AFTER the acting attorney general made it clear to The White House that Flynn may have been compromised and was now a national security threat.
In addition to the testimony from Yates, it was also learned on Monday that President Barack Obama warned then-President-elect Trump not to hire Michael Flynn as national security adviser. Mr. Obama was privy to the national security information regarding Flynn and attempted to warn Trump of the incoming disaster. Trump ignored his predecessor and hired Flynn anyway, only to fire him less than 2 weeks later.
.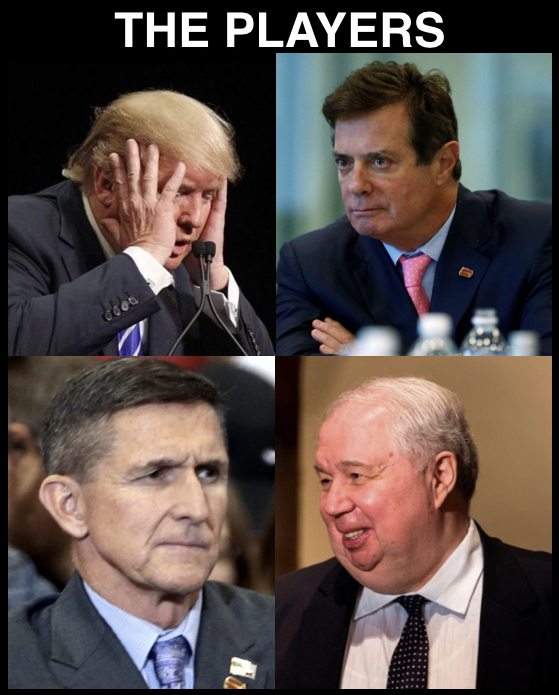 .
Top News Today
Not surprisingly, Donald Trump took to Twitter following the testimony from Yates in the hopes of politically spinning the story to his advantage.
"Russia-Trump" collusion story is a total hoax," Trump tweeted.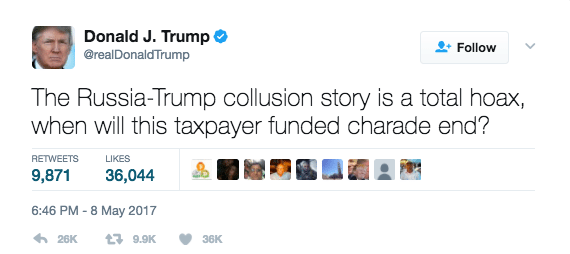 Political analysts immediately pounced on the tweet, pointing out that not only was it unpresidential for him to call a federal investigation of this magnitude a "hoax," but also how exhausting it has become that Trump always calls any negative stories about him "fake" and all positive and/or made up stories concerning him (such as the GOP's pretend repeal celebration of Obamacare last week) great!
If collusion between the Trump campaign and Russia is actually fake, Donald Trump could put an immediate end to all speculation by using the power of his office.  He could call for the appointment of an independent investigation that does not involve either political party, then require that each and every person even loosely connected to the possibility of collusion volunteer to testify.  Next, he could interrupt prime-time television programming and speak directly to the American people, explaining to them emphatically how he was never involved in any collusion with any foreign entity, and how he will prosecute to the full extent of the law ANY member of his administration who is found to have been.  He could also answer some underlying questions the American public wants to know:  Did McGahn tell Trump about his meetings with Yates? Did McGahn ever review the intelligence she presented? Who made the decision that keeping Flynn on the job until 4 days after The Washington Post broke the story that Flynn had lied to Pence? Why did they not believe his ongoing presence in the administration was a problem?  Why did they not inform Pence that Flynn had lied to him and that he was telling untruths to the American people?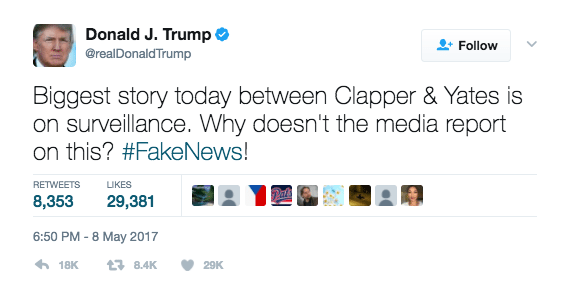 Wouldn't it make sense for Donald Trump to come forward with honesty and directness, answer all questions, hold all members of his administration accountable, and put an end to all speculation of wrongdoing once and for all?
Yes — except, the only problem is, Trump will NEVER do this. Why?  Because he knows something and he's hiding something — which is why he continues to stall the investigation, act uncooperative, and attempt to convince the American public that his connection to Russia is fake and is simply being made up by the "fake media,"  that's why.
So, remember folks, where there's smoke there's fire — and this one's about to roar!
.
WATCH SALLY YATES OBLITERATE SEN. TED CRUZ
---
OK WASSUP! Top News Today:




Former acting AG Sally Yates testifies.