FBI Director James Comey Fired By Donald Trump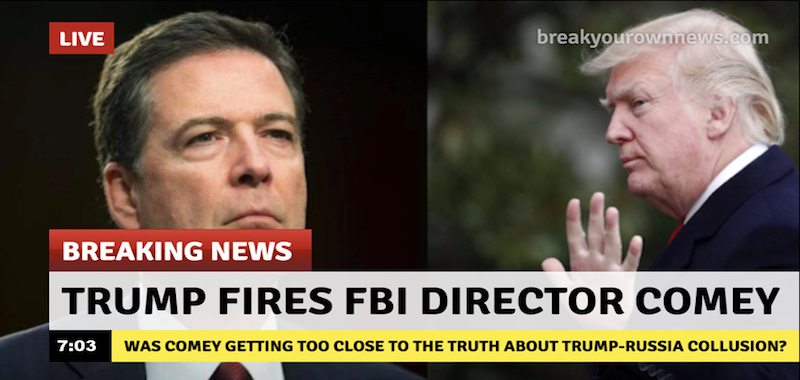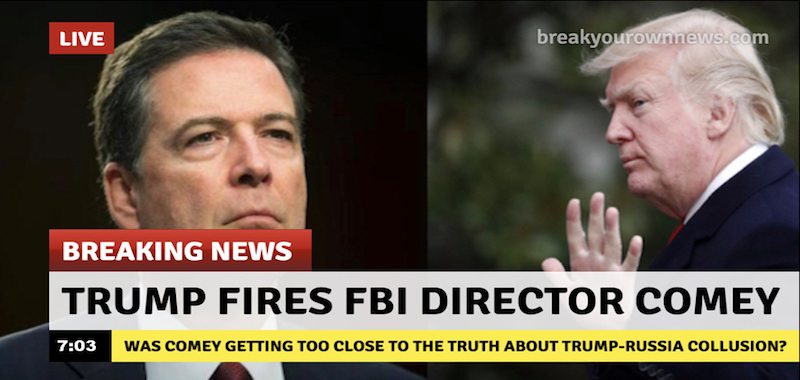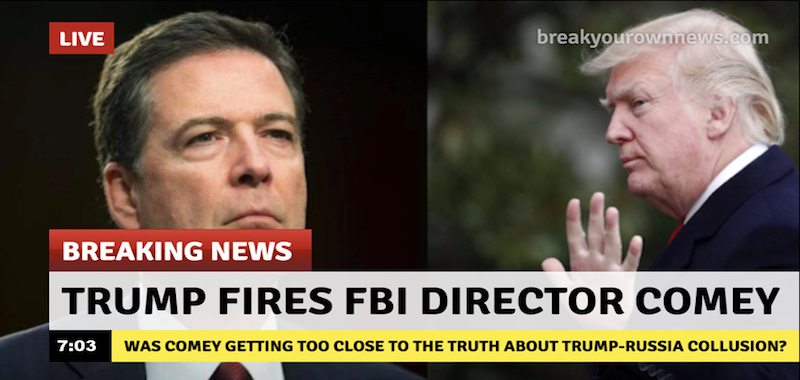 ---
Top News Today –


FBI Director
James Comey Fired
By Donald Trump
---
Apparently, the heat was getting a little too hot for Donald Trump. How else can he explain his decision to fire FBI Director James Comey in the middle of an investigation of Trump's ties to Russia and his possible collusion with a foreign entity?

Top News Today
As the old saying goes, "There's something rotten in the State of Denmark." Or, to put it more bluntly, "The shit has hit the fan." On Tuesday, Donald Trump fired FBI Director James Comey in a move that has rocked the political world and sent the Republican Party into a frenzy.
In a letter sent on Tuesday to the now former FBI director, Trump informed Comey of his surprise dismissal:
"While I greatly appreciate you informing me, on three separate occasions, that I am not under investigations…I nevertheless concur with the judgment of the Department of Justice that you are not able to effectively lead the Bureau."
Ironically, Comey was speaking to FBI agents in Los Angeles when the Trump letter was hand-delivered to his Washington office. Comey only learned of his dismissal when he happened to look at a television during his speech and saw the news on the screen.
The firing of Comey comes only a week after he delivered dramatic testimony to the Senate Judiciary Committee regarding collusion between the Trump campaign and Russia. His firing also paints the perception that he was getting dangerously close to finding the truth. Coincidence? Don't bet on it!
The official reason given for Comey's dismissal is beyond laughable. The White House stated that Donald Trump didn't like how the FBI director handled the Hillary Clinton email situation last summer, so he fired him. Make note: the key phrase here is LAST SUMMER.
IF Donald Trump were actually concerned with how the FBI handled the Hillary Clinton email investigation from nearly a year ago, he could have fired Comey on inauguration day, but he didn't. In fact, Trump actually congratulated Comey on his work with the Clinton investigation (which helped him get elected). So, why is that same work now worthy of immediate dismissal? It doesn't take much to figure out someone is lying.
.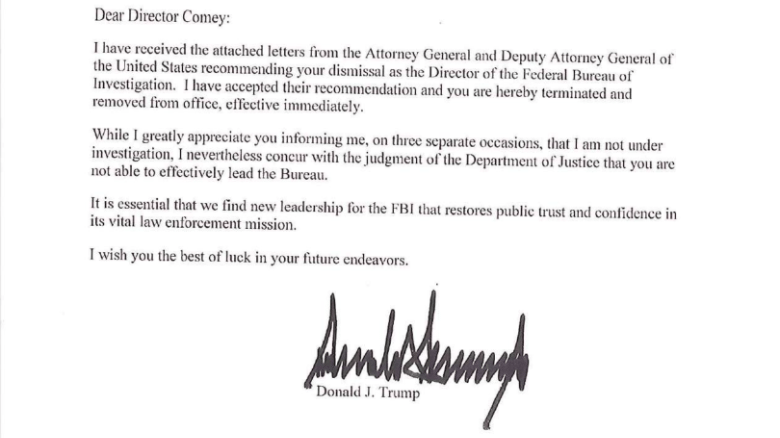 .
In an official statement from the White House, press secretary Sean Spicer explained the Comey firing like this:
"Today, President Donald J. Trump informed FBI Director James Comey that he has been terminated and removed from office. President Trump acted based on the clear recommendations of both Deputy Attorney General Rod Rosenstein and Attorney General Jeff Sessions. The FBI is one of our Nations most cherished and respected institutions and today will mark a new beginning for our crown jewel of law enforcement."
Top News Today
Top congressional Republicans with experience and resumes longer than a few years on a reality TV show, broke rank and spoke out against the horrific optics of the Comey firing and the long-term damage it could cause the GOP.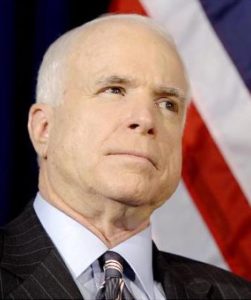 "I am troubled by the timing and reasoning of Director Comey's termination," Senate Intelligence Chairman Richard Burr, a North Carolina Republican, said in a statement.
Arizona Sen. John McCain said he was "disappointed" by the incident. Sen. Bob Corker, who chairs the Senate Foreign Relations Committee and occasionally advised the Trump campaign last year, said he also had concerns.
"Regardless of how you think Director Comey handled the unprecedented complexities of the 2016 election cycle, the timing of this firing is very troubling," said Sen. Ben Sasse of Nebraska in a statement.
Rep. Justin Amash, a member of the conservative House Freedom Caucus, tweeted that he intends to introduce legislation supporting the creation of an independent commission to investigate Russia's interference in the election.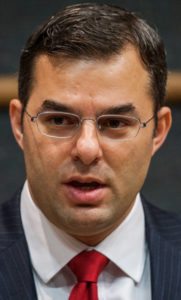 Thankfully, Rep. Amash has the right idea.  The time has come to put party affiliations and partisanship aside for the sake of the country.  A foreign adversary has been charged with interfering in a US election and the current administration seems to be mangling and politicizing that investigation for their own benefit and/or protection.  At this point, a completely independent commission is urgent!
For Trump to fire the FBI director while he is currently involved in an active investigation of the entire Trump campaign is absolutely unconscionable. However, his terrible temper-tantrum has political historians reminiscing about October 20, 1973, in what has come to be known as the Saturday Night Massacre, when then-President Richard Nixon fired special prosecutor Archibald Cox, who was investigating him. That single move led to the eventual impeachment of Nixon.
Could the firing of James Comey be the domino that begins the fall and eventual impeachment of Donald Trump?
.
Historians may one day remember May 9, 2017 as a fateful day in American history. In firing FBI director James Comey, the 45th President of the United States may well have set in motion a series of events that could lead to more controversy and potentially even his impeachment less than a year after being sworn into office.

– Paul Callan, CNN

.
---
OK WASSUP! Top News Today:




Trump fires FBI Director Comey.