Twitter Fight Proves Trump Is Not Right
Take Our Poll!
Trump's Twitter fight proves that he wants to rule instead of govern.
Trump is delegitimizing his presidency, one tweet at a time.
Two rounds of a vulgar Twitter fight between Donald Trump and MSNBC's "Morning Joe" co-hosts Joe Scarborough and Mika Brzezinski has lawmakers questioning Trump's mental fitness for the office of the presidency.

Politics
In an unexpected war of words last week against the MSNBC hosts, Trump took to Twitter to say he "heard poorly rated @Morning_Joe speaks badly of me (don't watch anymore)." He then went after Brzezinski, saying "how come low I.Q. Crazy Mika, along with Psycho Joe, came … to Mar-a-Lago 3 nights in a row around New Year's Eve, and insisted on joining me. She was bleeding badly from a face-lift. I said no!"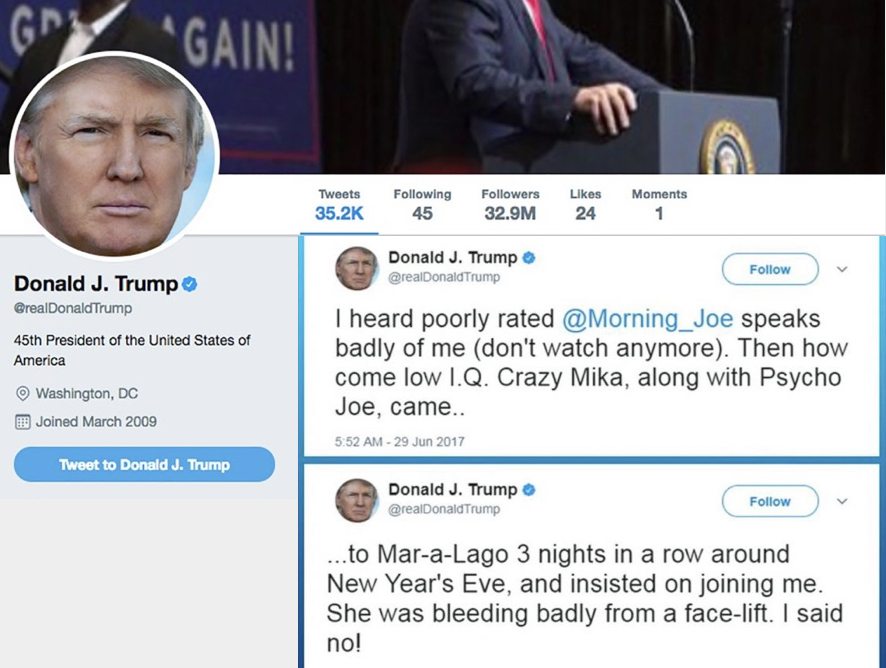 The graphic and personal attacks instigated by Trump were immediately condemned by several top Republicans, who considered his nasty Twitter rant beneath the dignity of a president.
"Obviously, I don't see that as an appropriate comment," House Speaker Paul Ryan said on Thursday, adding, "Look, what we're trying to do around here is improve the tone, the civility of the debate, and this obviously doesn't help do that."
Sen. Lindsey Graham echoed similar sentiments, saying, "Mr. President, your tweet was beneath the office and represents what is wrong with American politics, not the greatness of America." He later added that Trump's insult was "highly inappropriate" regardless of any impact it might have on distracting from the GOP agenda and that Trump should apologize.
On Saturday, a defiant Donald Trump ignored calls to retract his remarks and instead, returned to Twitter to double-down with additional attacks.
"Crazy Joe Scarborough and dumb as a rock Mika are not bad people, but their low rated show is dominated by their NBC bosses. Too bad!" Trump tweeted Saturday morning.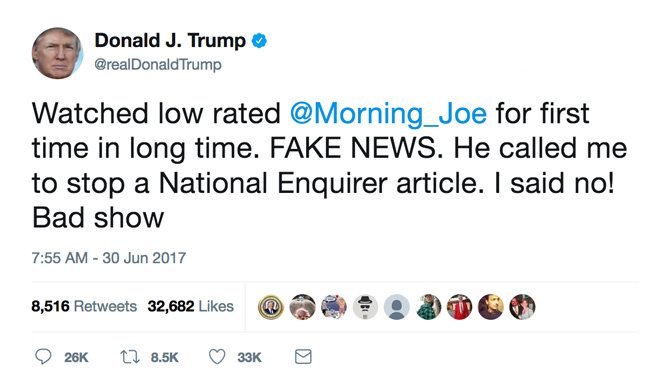 On Friday, Scarborough and Brzezinski responded to Trump's attacks with a Washington Post opinion piece entitled "Donald Trump Is Not Well."
"America's leaders and allies are asking themselves yet again whether this man is fit to be president," they wrote. "We have our doubts, but we are both certain that the man is not mentally equipped to continue watching our show, 'Morning Joe.'"
During their Friday "Morning Joe" broadcast, they also accused the Trump White House of threatening them with a National Enquirer hit piece if they didn't change their news coverage of Trump. As expected, Trump called the accusation "FAKE NEWS" and added that Scarborough "called me to stop a National Enquirer article. I said no! Bad show."
His showdown with the MSNBC hosts was followed on Sunday by a Twitter video post from Trump showing him beating up a man with a CNN logo displayed in place of his face.  The post was highlighted with the text #FNN – FRAUD NEWS NETWORK.
Politics
In a desperate attempt to defend "The Donald," Deputy White House press secretary Sarah Huckabee Sanders was sent before the media to clean up her boss' mess.
"Look, the American people elected a fighter. They didn't elect somebody to sit back and do nothing," Sanders said, adding that Trump "fights fire with fire."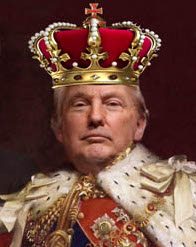 "I don't think that the President's ever been someone who gets attacked and doesn't push back. There have been an outrageous number of personal attacks not just to him but people around him."
Trump's Twitter fight proves that he wants to rule instead of govern. "The Donald" doesn't yet realize that as an elected official, his performance is open to scrutiny and critique. This is not North Korea. Trump is not owed, nor should he expect sovereignty.
Perhaps Donald Trump was picked on as a kid. Perhaps he was made fun of as a teen. However, as a 70-year-old senior citizen, it's time to accept that not everyone will like him or his decisions. As president, he simply can not personally pick-off each detractor one by one. To do so means Trump is delegitimizing his presidency, one tweet at a time.
Is Donald Trump truly fit for the office of the presidency?
TAKE OUR POLL:
---
OK WASSUP! discusses politics:
Twitter fight questions Trump's fitness.