Christians Fear Kim Davis 'Religious War'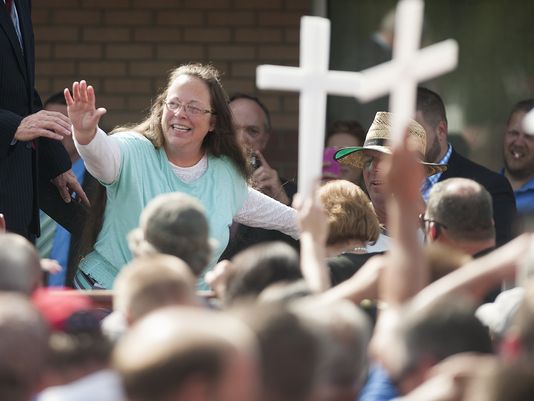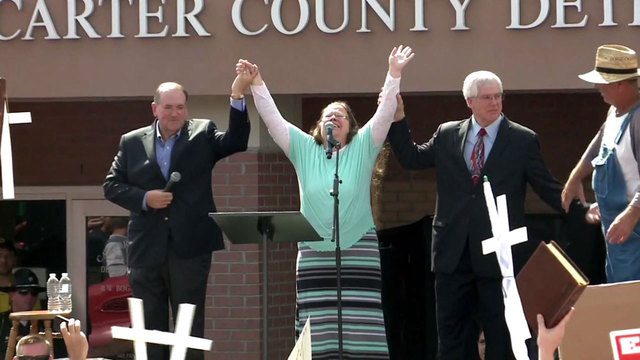 ---
---
Last week, when Republican presidential candidate Mike Huckabee applauded Kentucky clerk Kim Davis for "standing up for Christianity" by refusing marriage licenses to gay couples, he was playing political games. However, some Christians now fear Huckabee's pep rally for Kim Davis may have launched a religious war on Christianity.

Christianity
Kim Davis has become somewhat of an accidental hero to a contingency of conservative Christians, who believe her refusal to issue marriage licenses to same-sex couples was a powerful example of her religious faith.  However, some equally conservative Christians disagree with Davis' stance, worrying that the elevation of her to martyr status will hurt the cause of religious liberty and Christianity in the long run.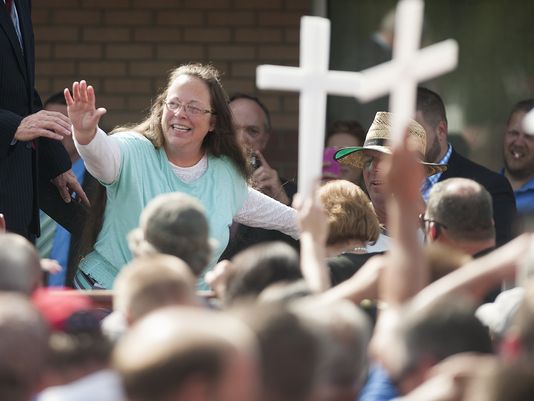 "I think she's wrong on the merits, wrong theologically and her stance is harmful to Christians both in the religious liberty debate and in trying to present Christianity to the watching world," said Peter Wehner, a Christian commentator who served in the last 3 Republican presidential administrations.  He is not alone in his opinion.
Other conservative leaders have warned that with Davis in position as a government official, she may not be the ideal figure to rally around. Rod Dreher, senior editor at "The American Conservative" recently wrote that Davis' case is "not the hill to die on." Instead, he believes this conversation is premature and should only be had "when they start trying to tell us how to run our own religious institutions – churches, schools, hospitals, and the like – and trying to close them or otherwise destroy them for refusing to accept LGBT ideology."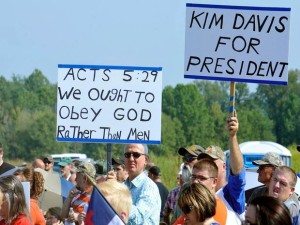 No one is trying to force religious institutions into accepting LGBT ideology, but they are insisting that elected government officials uphold the oath they took to follow the law.  However, therein lies the problem, as Dreher and Wehner both believe Davis' case could drive away support for religious liberty by stirring up anger at a public servant who has refused to do her job, has refused to let a subordinate do it, and has refused to resign.
Unlike Kim Davis, other conservative Christians who are also elected officials have figured out ways to reconcile their faith with their duties. For example, when faced with having to issue marriage licenses to same-sex couples in Tennessee, the local clerk and 2 of her employees simply chose to resign.
Brenda Wynn, the clerk of Davidson County in Nashville, said she looked to Romans 13:1 for guidance: "Let everyone be subject to the governing authorities, for there is no authority except that which God has established."
"I'm obliged to follow the law of the land," Wynn said. "I love the Lord, but I must follow the law."
Christianity
Many conservative Christians are fearful that Kim Davis and the denouncement of same-sex marriage is becoming the face of Christianity — and they don't like it.  They recognize that the United States is far more intolerable of LGBT issues than the rest of the world.  They point to cases of overt discrimination, including a Washington florist and a Colorado baker who each refused to provide services for a same-sex wedding, but were celebrated for their choices by conservative Christians. They are afraid that with the world watching, these scenarios could turn many away from Christianity and force others to fight the faithful.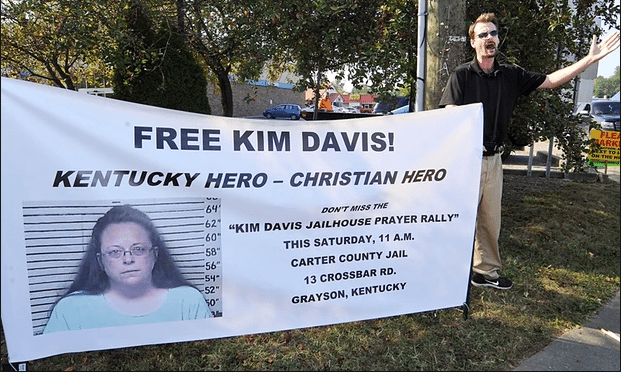 On Monday, Kim Davis returned to work at the clerk's office.  Although she continued her refusal to issue marriage licenses to same-sex couples, she did not stand in the way of her deputies doing so.
"Effective immediately, and until an accommodation is provided by those with the authority to provide it, any marriage license issued by my office will not be issued or authorized by me," Davis said on her first day back to work since her release from jail. "I want the whole world to know.
The American Civil Liberties Union, which represents couples who sued Ms. Davis, expressed reservations about the clerk's somewhat defiant announcement.
"Ms. Davis has the absolute right to believe whatever she wants about God, faith and religion — that is her constitutionally protected right," Amber Duke, a spokeswoman for the ACLU Kentucky chapter said. "But as a government official who swore an oath to uphold the law, she cannot pick and choose who she is going to serve, or which duties her office will perform based on her religious beliefs."
For those religious fanatics who support Davis, she is a living saint — but her deputies (who have been issuing marriage licenses to everyone in her absence) are considered the devil.
"That man right there, while Kim was suffering in jail, was a coward, enough to be signing these homosexual marriage licenses," Elizabeth Johnston, a mother of nine from Ohio, said about deputy clerk Brian Mason.
Is Kim Davis truly the model Christian?  Has she become the poster-child for Christianity? Has same-sex marriage become the 1 "sin" that magically trumps all others and permits government officials to ignore the law in favor of their own personal beliefs?
Some Christians believe the Kim Davis saga is a runaway train out of control and, with a potential religious war looming on the horizon, they hope to stop it in its tracks before it's too late.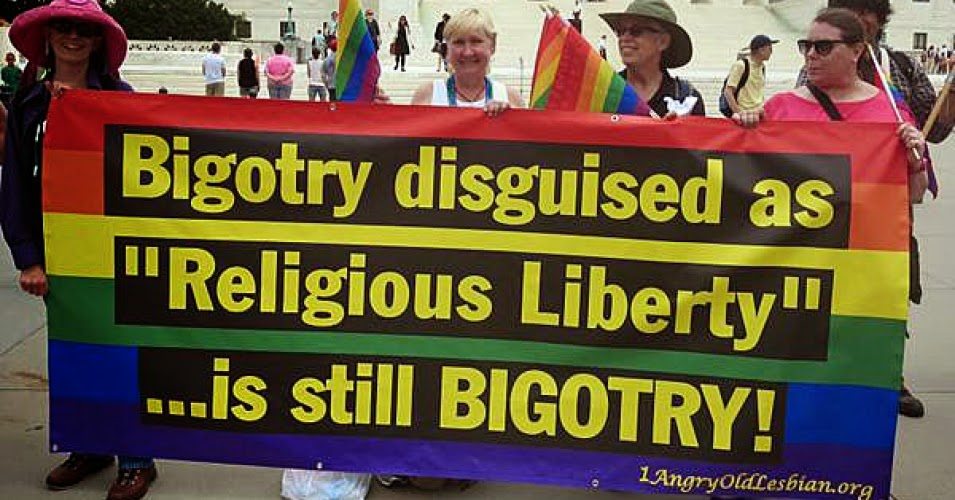 ---
OK WASSUP! covers Christianity news. Today's article:




Christians fear the Kim Davis situation could spark




a religious war