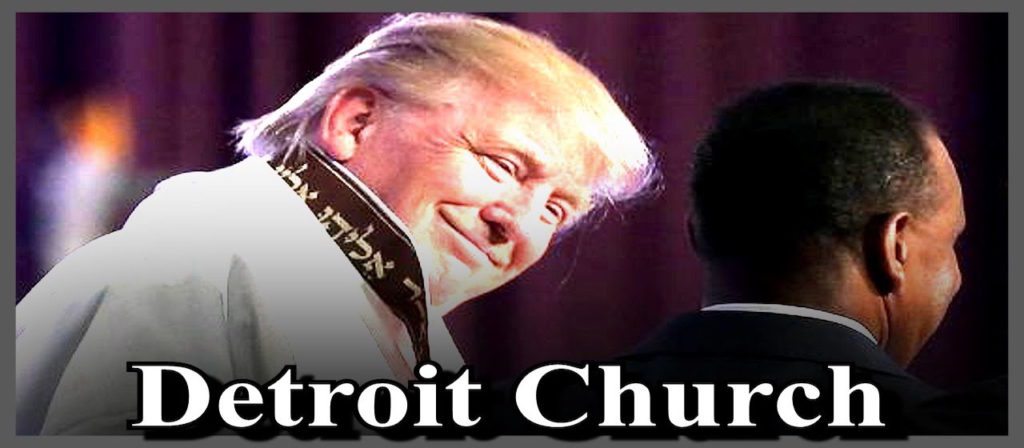 ---
Politics –
Detroit Church Under Fire
For Trump Invite
---
When Donald Trump showed up last Saturday to the historically black Great Faith Ministries church in Detroit, Bishop Wayne Jackson came under fire as if he had extended an invitation to the devil himself.

Politics
Flanked by flunkies Dr. Ben Carson and Omarosa Manigault (for black "street cred" purposes), the GOP presidential nominee continued his rather bizarre courting of minority voters by attending and addressing a black congregation of worshippers.
Trump swayed back and forth uncomfortably as he listened to several gospel selections from the choir, then addressed the crowd.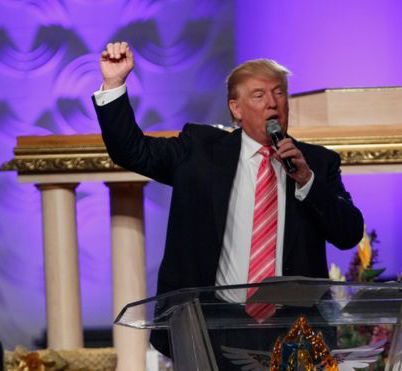 "I fully understand the African-American community has suffered from discrimination," Trump said while referencing disparities in education, employment, and public safety. He then promised to bring "prosperity" to lower-income Americans. "We need a civil-rights agenda for our time."
Trump's tone was uncharacteristically muted and his words were far different from just a few short weeks ago, when he used an all-white rally to deliver a message to black voters, saying "You're living in poverty, your schools are no good, you have no jobs, 58% of your youth is unemployed — what the hell do you have to lose?"
Less than 2% of African-Americans throughout the country support Donald Trump's candidacy, primarily because of his bigoted references and connections to white supremacists. So, it's not surprising that Bishop Jackson received a ton of heat from providing Trump the perfect backdrop (that he could use in campaign ads) for his "pretend" outreach to black voters.
Hundreds of protesters lined the streets outside the church for the "admission ticket only" event with Trump. Among the protesters was 69-year-old Thomas Wilson Jr. of Detroit, who said, "The xenophobic guy that started this race last year is the same man that's coming to this church today." Yet another protester carried a placard that read "Mr. Hate, Leave My State."
Lawrence Glass, the president of the Council of Baptist Pastors of Detroit and Vicinity, addressed reporters and demonstrators at a news conference, saying black voters "will not be trumpets to get his message of fear and hate out."
"He is speaking at a black church, which is not equivalent to speaking to a black church," Glass added.
.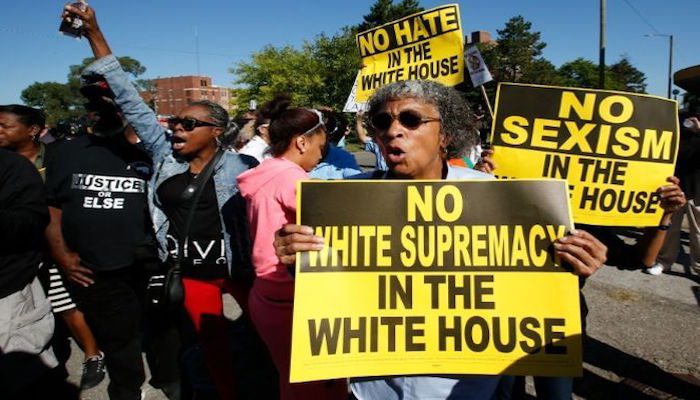 .
Politics
In response to the controversial event, Bishop Jackson attempted to justify his invitation by saying, "I owe this to my viewers."
"My phone has been burning up," he said. "And the things people are asking: 'Is Donald Trump paying me off?' They haven't paid me off. You haven't looked at me and seen a man who's needed things I've always been blessed. It's not about being a Judas to my people. I love my people. I feel that we should be better off than what we are. This is not an endorsement. This is engagement, for him to tell us what he wants to do."
He continued: "Do you think Donald Trump will manipulate the people? Black folks, we're not stupid. We know when someone is running a game. If anybody knows, we know. And I'm saying, 'We don't need a guardian. We don't need a guardian from one party or the other.' "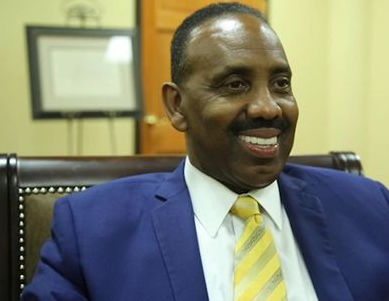 In an open letter signed by the Council of Baptist Pastors of Detroit and Vicinity, the Metropolitan Organizing Strategy Enabling Strength (MOSES), the Michigan chapter of Church of God in Christ (COGIC), local chapters of the Evangelical Lutheran Church in America and the Episcopal Church, as well as a host of other faith-based coalition groups and denominations based in metro Detroit, Trump's visit was widely criticized. "Racism, bigotry, misogyny, hate speech, sexism, divisiveness, threats, a call to harm, discrimination, bullying, and fear mongering have no place in the White House in the greatest country in the world," the letter said.
However, Bishop Jackson stood his ground.
"You can't be afraid to be criticized for making right decisions, for not being politically correct," he said. "We should all sit down and see what's going to be the best thing for this country. We should be independent and not go with the crowd but make sure in our hearts of what we're voting for. When I go into that ballot booth, I vote with my heart and not what somebody told me to vote."
Ironically, before Trump left the church he was draped with a Jewish prayer shawl as a special gift from Bishop Jackson, which has since created an entirely new controversy among the Jewish community.
Donald Trump's black church drive-by has posed an interesting question: After adopting a similar "nice" tone in Mexico last week just to deliver a fiery speech against Mexican immigrants only a few hours later, is his nice tone in Detroit the same "wink-and-a-nod" BS as before?
.
---
OK WASSUP! discusses politics, including
Donald Trump's speech to a Detroit church.