White House vs Trump: 'The Gloves Are Off!'



---
Politics –
White House vs Trump:
'The Gloves Are Off!'
---
Although Donald Trump was confirmed by the Electoral College yesterday as the official president-elect, he shouldn't expect the next several weeks to be smooth sailing for him — especially when it comes to his relationship with the Obama White House.
Their point of contention: Russian hacking!

Politics
Every single US intelligence agency believes Donald Trump's unexpected win came at the hands of Vladimir Putin and the Russian government.  However, despite their decades of experience in matters of intelligence and national security, Trump continues to claim he is much smarter than the experts and that everyone (except him) is wrong about Russia. Needless to say — and I'll put it bluntly — Barack Obama is pissed!
President Obama has done a yeoman's job of attempting to maintain a civil relationship with "The Donald" and his team, however, Trump's dismissal of US intelligence regarding Russian meddling has understandably alarmed the White House and much of Washington. Or in other words, that "Kumbaya" moment of Trump with Mr. Obama in the Oval Office has now turned into a combative and bitter rift between the incoming and outgoing administrations that likely won't be healed prior to January 20th.
The growing contention between the Obama and Trump camps was on full display late last week, when White House Press Secretary Josh Earnest openly criticized the reality TV star, insisting it was plainly obvious to the Republican's team that Russia had interfered in the US election in order to secure a Trump victory.  He then dismissed Trump's flippant response to Russian hacking of our democracy as "unserious," even prodding Trump to answer questions about the hacking instead of questioning US intelligence.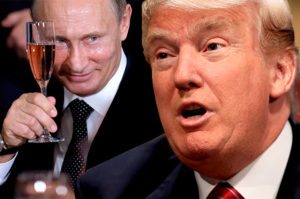 "It's just a fact — you all have it on tape — that the Republican nominee for president was encouraging Russia to hack his opponent because he believed that that would help his campaign," Earnest said of the presidential contest. "I don't know if it was a staff meeting or if he had access to a briefing or he was just basing his assessment on a large number of published reports, but Mr. Trump obviously knew that Russia was engaged in malicious cyberactivity that was helping him and hurting Hillary Clinton's campaign," Earnest added.
"It was the President-elect who, over the course of the campaign, indicated that he thought that President Putin was a strong leader," he continued in an attempt to demonstrate Trump's tight alliance with Moscow. "His campaign didn't make any effort to obscure this."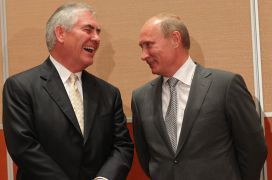 Earnest then tied Trump's selection of ExxonMobil CEO Rex Tillerson for secretary of state to his approach to Russia.
"The President-elect indicated his intent, if elected President, to pursue warmer relations with Russia," Earnest said. "What better way to do that than to choose somebody who has been awarded the Order of Friendship by Vladimir Putin to be your secretary of state?"
As expected, the thin-skinned Trump could not contain his contempt and tore into Earnest, calling him a "foolish guy."
"He could say, ladies and gentlemen today we have totally defeated ISIS and it wouldn't sound good, OK? All right?" Trump said.
Although Trump was quick to attack Earnest, he was careful not to inflame his budding BFF relationship with President Obama, who he now considers as an invaluable asset to him and his completely unqualified incoming administration. Instead, Trump suggested that Earnest was likely "getting his orders from somebody else," although he opted not to elaborate on whom he believes might be whispering into the White House press secretary's ear.
Interestingly, David Axelrod, a former senior adviser to Mr. Obama, said he knows exactly who provided Earnest with his marching orders, calling it "highly unlikely" the press secretary would escalate his hits on Trump without the President's approval.
"A press secretary doesn't go out and make statements like that on an unauthorized basis," Axelrod said.
Politics
The souring relationship between the Trump and Obama camps goes well beyond "The Donald's" total dismissal of Russian hacking. President Obama and several of his top aides are said to be irritated that Trump was completely stunned at the scale and responsibility of the presidency during his Oval Office meeting with Mr. Obama on November 10th.
Somehow, Trump convinced himself being President of the United States was an easy job that he could perform as a figurehead on a part-time basis while maintaining his current lifestyle.  So, in the interest of the country and national security, Mr. Obama is attempting to remain diplomatic and careful not to antagonize Trump, in the hopes the 2 men can continue phone consultations and that Trump will seek his advice and expertise when he arrives at the Oval Office on January 20th and hasn't a clue what to do.
In an interesting turn of events, the GOP is (finally) siding with the Obama White House, and has engaged in a mini-Cold War with itself over Trump's desire to trust and work with Russia.
Trump's strange affinity for Vladimir Putin combined with his denials that the Kremlin hacked the 2016 election have unleashed a feud within the GOP, which sees its hawkish history on Moscow and triumph over the Soviet Union as one of its defining achievements. The impending turmoil is threatening to ruin the confirmation process for Rex Tillerson as secretary of state, who has a personal friendship with Putin and opposes US sanctions on Russia imposed after the Kremlin's annexation of Crimea.
"I can't imagine I would vote for anybody that believes that we should not sanction Russia, given the fact that they did in fact interfere in our election," South Carolina Republican Sen. Lindsey Graham said this week on CNN.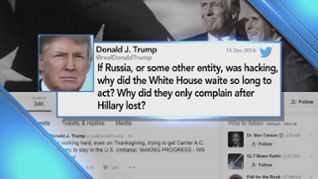 Still sticking with his single belief that Russia had nothing to do with hacking our election, but now refusing to repeat earlier claims that the election was "rigged" (since he won), Trump has gone on the defensive.
"If Russia, or some other entity, was hacking, why did the White House wait so long to act? Why did they only complain after Hillary lost?" Trump told his 17 million Twitter followers last Thursday.
Apparently suffering from selective memory, Trump has forgotten that Hillary Clinton did warn of his encouragement of Russian hacking during the presidential debates and the ramifications it would cause to our democracy.  Only now that they took him up on his offer to hack away and now that he has reaped the benefits of their actions, Donald Trump wants to buddy-up to the Russians and simply look the other way.
Donald Trump and his team now claim reports of Russian hacking are being used to delegitimize his victory. They have stooped to accusing the Democrats and critics of Trump inside the CIA of drumming up the hacking issue in order to undermine his surprise November victory.  Hmmm…
No wonder The White House is angry!
.

---
OK WASSUP! discusses politics:
White House vs. Trump war of words.