Trump Inauguration Set For Entertainment Failure



---
Entertainment –
Trump Inauguration Set
For Entertainment Failure
---
Congratulations are in order for Donald Trump.  After initially failing to get ANY entertainers to agree to perform for the Trump Inauguration, the list of stars slated to showcase their musical talents has now grown to a whopping THREE!


.
Entertainment
To date, Kid Rock, Ted Nugent, and a little girl chosen to sing The National Anthem are the ONLY performers willing to entertain the Trump's.  Oh, Donald — to think you actually believed Elton John, Mick Jagger, and a host of other A-list performers would actually work for you.  SMH
After sending out Trump Inauguration performance invitations to the showbiz elite, planners were shocked to learn no one was interested. According to The Wrap, planners were so desperate in recent days, they even offered to pay top-dollar to any A or even B-list performer who'd be willing to entertain. This is important, since traditionally, no president has ever had to pay anyone to perform for inaugural festivities. The honor of being able to perform for the new President of the United States and his family has always been payment enough — until now.
One such music mogul who was offered big bucks to help rescue the Trump Inauguration is producer David Foster (Barbra Streisand, Michael Bublé, Celine Dion, Josh Groban), who, like all the others before him, offered Trump a polite but forceful "No Thank You!"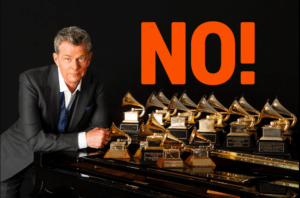 "Woke up this morning to a lot of news," Foster posted on Instagram last Saturday. "For the record, I was asked to participate in the upcoming inauguration some time ago and I politely and respectfully declined. Any news outlet that is reporting otherwise is misinformed."
Awww…
According to Simon Renshaw, manager of The Dixie Chicks, anyone taking part in the Trump Inauguration could be committing career suicide.
"If anyone does do it, I hope that the check that they get is in the nine figures. Because it's probably the last check they're ever going to get," he said.
If that's not enough, the Trump Inauguration team is also finding it next to impossible to locate marching bands and other acts willing to participate in the inaugural parade.
In what has become a long-standing local tradition, a marching band from a local public school in Washington, DC has always had a spot reserved for them in the parade. These bands have performed over the last 5 presidential terms, regardless of the Commander-In-Chief's political affiliation. However, that was then and this is now, as local schools have claimed everything from budget restrictions to lost applications just to get out of participating in the Trump Inauguration.
The Howard University Marching Band, which also usually participates in the inaugural festivities, has also decided to sit this year out. Band Director, John Newson, commented on the silence and excuses from the local schools.
"I think everybody knows why (bands are backing out) and no one wants to say and lose their job," Newson said.
Several schools in neighboring Virginia have also rejected the opportunity to perform for Trump.

.
Entertainment
Unlike in previous years, when the requests to perform at the inauguration were in abundance, The Presidential Inaugural Committee has refused to comment this year on the number of performance applications received, simply because there weren't many. In fact, the application deadline was even extended by a full week, in the hopes of gaining more replies. Sadly, it didn't help.
Luke Wiscombe, marketing director at Music Celebrations International has described the response to the Trump Inauguration by the entertainment community as "crickets."
"We didn't get the response that we got the last time, with Obama. Some groups responded, but with some groups (this year), it was crickets, "Wiscombe said.
"It's embarrassing that Trump cannot get an adult to perform the National Anthem, and is unable to recruit children to play in their bands for him," Occupy Democrats recently published. "This is by far the most disliked president; no one able to reasonably think for themselves wants anything to do with Donald Trump. His inauguration will no doubt be a hate-filled disaster and with his far right supporters clashing with protesters, he is almost guaranteed to be inaugurated in front of a nation, both divided and violent."
Ouch!
---
OK WASSUP! covers entertainment:
Trump Inauguration set up for failure.